Stoneleigh Kid's Try-Athlon
This event takes place annually on Labor Day Weekend.
Welcome to the Kids Try-athlon information page! We hope that this will give you everything you need to know about the race.
Entry deadline to ensure T shirt size and custom bib names is August TBD
First, and most importantly, this is a race for fun, so no experience is necessary, and you don't even have to be able to swim or ride a two-wheeler yet to race. Swimmers who have not passed the Stoneleigh deep water test will use the shallow end of the pool for the event, and training wheels are just fine. If you little athlete can run across the shallow end of the pool, ride (or be pushed by a parent) on a training-wheel-enabled bike around the pool roads, and jog or walk around the same roads by the pool, then they could very easily be a part of the race.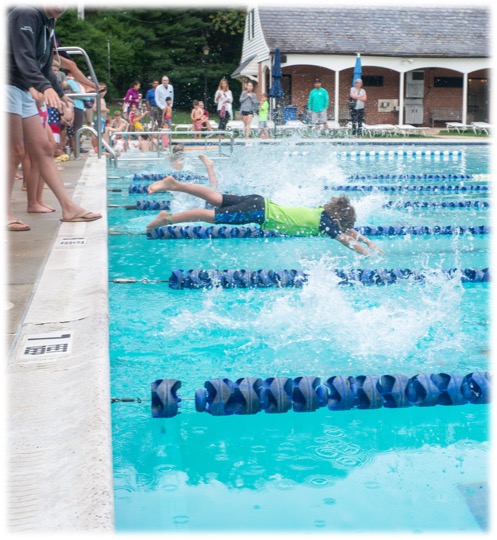 The swim will be in our lovely Stoneleigh Pool and is designed to be a fun and inviting start to athletes of all ages and skill levels. Swimming will be as follows:
For any swimmer uncomfortable with the laps, they are more than welcome to run across the shallow end instead! Our pool offers us this great alternative and many, many of the kids will be taking it. Of course we always encourage swimming but running and splashing your way across is just as good at this race!
There are two bike courses in the race that will be used for the various age groups.
The first will be our shorter course which essentially runs around the pool area. Ages 4 – 5 will do one loop around; ages 6 – 7 will do two loops. The second is a longer loop for the older kids. Ages 8 – 9 will do one loop while ages 10 – 12 will do two loops.
The bike course starts and ends in the pool parking lot transition area. Please note that athletes must mount and dismount their bikes immediately outside of the pool parking area for safety. This will be taken pretty seriously as the transition area will be quite lively so please remind your little athletes to jump off before charging into the parking lot!
The run course is an out-and-back on Hatherleigh & Wardman. We will be turning age groups around by color on that road. All turn-arounds will be clearly marked.
Frequently Asked Questions